Desktop-Dell Optiplex 3070 i3-4-1-DOS (3Y)
Special Price LKR 66500.00
Regular Price:
Islandwide Delivery Available
Desktop-Dell Optiplex 3070 i3-4-1-DOS
Dell OptiPlex 3070 Mini Tower i3 Desktop
Sleek and flexible: Ideal for financial or government offices, the OptiPlex 3070 delivers full-power features in a smart design that performs in any environment.
Fit for any workspace: Combine the small form factor with the new OptiPlex Small Form Factor All-in-One stand for a versatile, flexible solution. Further maximize your workspace by placing the tower discreetly on or under your desk.
Processor:
Intel Core i3-9100 (4 Cores/6MB/4T/3.6GHz to 4.2GHz/65W)
Chipset:
Intel Q370 Chipset
Hard Disk:
3.5" 1TB 7200rpm SATA Hard Disk Drive
RAM Memory:
4GB 1X4GB DDR4 2666MHz UDIMM Non-ECC
Manufacturer: DELL
Model:
OptiPlex 3070 Small Form Factor
Operating System:
DOS
Graphics:
Intel® Integrated Graphics
Ports:
1 USB 3.1 Gen 2 Type-C (front)
5 USB 3.1 Gen Type-A (1 front/4 rear)
4 USB 2.0 (2 front/2 rear)
1 J-45
2 DisplayPort 1.2
1 UAJ
1 Line-out
1 VGA (Optional)
1 DisplayPort (Optional)
1 HDMI 2.0b (Optional)
1 Serial (Optional)
1 USB Type-C Alt-mode (Optional)
Optical Drive:
8x DVD+/-RW 9.5mm Optical Disk Drive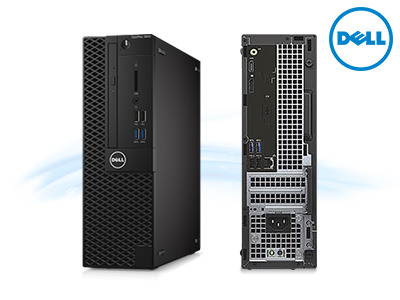 Ports & Slots – Small Form Factor
1. Power Button | 2. Optical Drive (Optional) | 3. SD Media Card Reader (Optional) | 4. Universal Audio Jack | 5. USB 2.0 Ports (2) | 6. USB 3.1 Gen 1 Type-A Ports (2) | 7. Line-out | 8. HDMI Port | 9. DisplayPort | 10. USB 3.1 Gen 1 Type-A Ports (2) | 11. USB 2.0 Ports (2) | 12. PCIe Card Slots (2) | 13. Thumbscrew | 14. Serial Port (Optional) | 15. Video Port (Optional DP/HDMI 2.0/VGA) | 16. RJ-45 | 17. Knock-out Slots for Wireless Antennas | 18. Power Connection | 19. Thumbscrew
Dimensions & Weight
Small Form Factor: 1. Width 9.26cm (3.7) | 2. Depth 29.0cm (11.4) | 3. Height 29.2cm (11.5) | Minimum Weight 5.26kg (11.57lb)

Tower: 1. Width 15.4cm (6.1) | 2. Depth 27.4cm (10.8) | 3. Height 35cm (13.8) | Minimum Weight 7.93kg (17.49lb)