Hard disk drive SEAGATE 1 TB PORTABLE
Special Price LKR 10200.00
Regular Price:
Islandwide Delivery Available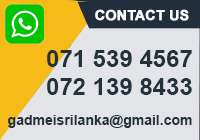 Simple add-on storage that goes with you

The Seagate® Expansion portable drive is compact and perfect for taking
with you on the go. Add more storage space to your computer instantly
and take large files with you when you travel.

Setup is straightforward, simply connect a single USB cable and you are
ready to go. The drive is powered from the USB cable, so there is no
need for an external power supply. Plus, it is automatically recognised by
the Windows® operating system, so there is no software to install and
nothing to configure. Saving files is easy — simply drag and drop.
Take advantage of the fast data transfer speeds with the USB 3.0
interface by connecting to a SuperSpeed USB 3.0 port. USB 3.0 is
backward compatible with USB 2.0 for additional system compatibility
1TB
Drag and drop file saving, right out of the box
USB powered
Fast data transfer with USB 3.0 connectivity
The easy-to-use storage solution
The Expansion portable hard drive can be installed easily by plugging in a single USB cord. You can start saving your digital files to this external hard drive within seconds of removing it from the box.
Instantly adds storage capacity
Digital photos, videos and music files can tax your computer's storage, causing performance to decline as its internal hard drive fills to capacity. The Expansion portable hard drive features a range of capacities, with the 1 TB model offering enough data storage for:
Up to 1,000 hours of digital video
Up to 250 two-hour DVD films
Up to 320,000 digital photos
Up to 16,660 hours of digital music